EasyMarkets
EasyMarkets Introduction
EasyMarkets is truly a global operation with international offices in London, Manila, Chicago, Melbourne, Sydney and Tel Aviv with its headquarters located in Cyprus.
Putting their years of experience with international banking, forex and CFD trading, a group of bankers founded EasyMarkets Inc in 1999 and acquired licenses in Australia, the EU and registered with the CFTC in the US. EasyMarkets is also a member of the National Association of Futures Dealers.
EasyMarkets Review
EasyMarkets Accounts
EasyMarkets has an account for everyone – from the beginner to the more experienced trader along with other packages with special terms and conditions. Leverage options are offered at 1:50 and 1:200 except in the US as the NFA has capped options at 1:100 as well as packages customized for the customer.
EasyMarkets is licensed for trade in the US, Europe and Australia. EasyMarkets License is:
USA: CFTC registered; NFA membership number 0358754
EU: CySEC 079/07
Australia: ASIC AFSL 246566
EasyMarkets offers one of the lowest minimum initial deposits in the industry at only 25USD while the minimum transaction is 2,500USD.
Clients may also trade gold, silver and oil although oil is only available for trade to clients outside the US.
Unique Features with Easy Markets
EasyMarkets.com supports accounts in twelve different base currencies which definitely makes it a standout among most brokerages.  The Inside Viewer and Trade Controller tools also set Easy Markets apart from the rest – both landmark developments in the retail currency trading game.
With the Inside Viewer traders can check the positioning of Easy Markets clients regarding popularity of currency pairs, open deals structure and deal direction while the Trade Controller provides traders with a plain representation of profit or loss scenarios with visual displays.
Beyond these unique tools, buy and sell orders are automated so they are executed immediately. To ensure there are no faulty transactions from problems with connection Easy Markets features a freeze rate facility that accepts or refuses an entry within seconds.
Deposits and Withdrawals
Among the most appealing things about trading with EasyMarkets is how easy it is to deposit and withdraw currency. Deposits can be made via wire transfer, PayPal, bank transfer and credit card. There are no fees, spreads or commissions applied during withdrawal to a credit card account.
EasyMarkets Trading Platform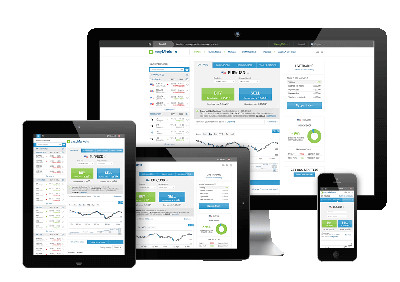 Another great thing about EasyMarkets is the trading platform itself. Since it is web-based are no downloads which gives a trader piece of mind as far as security is concerned. EasyMarkets trading plarform also works with iPhone, Android and other mobile phones as well as iPad and tablets. Their forex app is one of the best online. Traders have access to trading twenty-four hours a day, seven days a week.
The platform can be customized to meet the language requirements of all of its clients with languages including English, French, German, Spanish, Chinese, Russian, Arabic, Greek, Polish and Hebrew. There is no desk dealer or go-between because trades are automated.
EasyMarkets offers the trader updates in real time with slippage minimized as much as possible. The basic package includes, EasyMarkets offers charting services, technical analysis tools and economic information from Reuters.
Demo Features
EasyMarkets provides a great experience for newcomers to trading. With guided video tours, chat services, training via phone and an extensive information center EasyMarkets provides a professional, friendly training experience to make forex trading less frightening for beginners.
Security and Privacy
EasyMarkets employs two of the most trusted names in internet and financial security – Verisign and Barclaycard – for their credit card clearing and data encryption services, allowing their clients peace of mind knowing their sensitive data is secure.
Summary
With its user-friendly platform, top-notch support system, customizable languages, trader-friendly policies, account package options, reliable servers, easy transfers for withdrawals and deposits and wide variety of accepted currency, EasyMarkets lives up to its name. It's the perfect place for a new trader to begin their journey into the world of forex trading with a reliable and secure firm.
Please click here to visit EasyMarkets -