Best Forex Trading Sites
Welcome! Our aim is to provide you with the very best forex trading sites online. Along with that we also want to give you trading related information to help you become a successful forex trader.
Foreign Exchange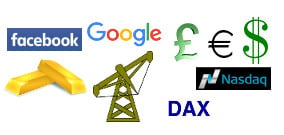 Foreign Exchange, aka forex trading, is a term which mainly relates currency trading online. But it has also come to include what is commonly known as CFD trading.
CFD is short for Contract For Difference and it's a brilliant way to trade commodities, stocks and different indices. Currency pairs, commodities like oil and gold, stocks like Apple, Google and Facebook and indices like Nasdaq 100, Germany 30 (DAX) and UK100 (Dow Jones UK).
So forex trading today does not only include trading currency, it also includes trading commodities, stocks and indices. All forex sites presented on Best-Forex-Trading-Sites.com offers currency trading as well as CFD trading.
Best Forex Trading Sites Online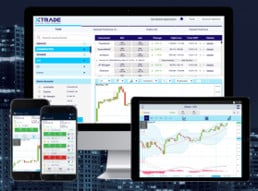 First of all we only present regulated forex sites. Regulations are however dependent on which country or region you live in.
So, always make sure the broker site that you choose have a license for trading in your region. You will find this information on the license and regulation page at the forex broker website.
What Defines A Great Forex Site
We rank the forex sites based on trading platform, customer support, available forex and market info, number of underlying assets available for trading, spreads for those assets and of course the leverage they offer. These are all key factors to a great forex site.
License And Regulation

The forex sites are regulated by region. All regions have different authorities that offer license for their specific region. A region, in this case, can be a part of a country, a country or a region like for instance the European Union. A region can also be a collection of countries, this is what's called an international license.
All in all, it's very important to you as a trader make sure that the forex site you which to sign up with are fully licensed for trading where you live. Where you live is what determines which region you need the broker site to be licensed for.
Most Common Regulation Authorities
When the forex broker site is regulated by an authority the site receives a license number from that authority. If the broker site is fully licensed, the license number is always found at the broker website. You as a trader can crosscheck the license number at the authority website.
Europe
Trading sites licensed for trading in Europe and the European Union:

CySEC - Cyprus Securities Exchange Commission


Brokers can also be licensed for trading in Europe by central banks of countries in Europe.
Australia
Forex trading sites licensed for trade in Australia are licensed by:

ASIC - Australian Securities and Investments Commission
South Africa
South African forex trading sites are licensed by:

FSB - Financial Services Board
United States
Forex sites regulated for trading in the US are licensed by:

NFA - National Futures Association
Japan
Forex broker sites licensed for trading in Japan are licensed by:

FSA - Financial Services Agency of Japan

FFAJ Financial Futures Association of Japan
United Kingdom
Forex sites licensed for trading in the UK are licensed by:

FSA - Financial Conduct Authority
International
Authorities that provide international forex trading license:

IFSC - International Financial Services Commission

FSC - British Virgin Islands Financial Services Commission
Forex Trading Risks

Always bear in mind that forex trading is an investement with great risks. Due to the leverage not only your stake, but your entire capital is at risk. This is extremely important.
In order to be a successful forex trader you have to have a well thought out strategy for your trading. When trading forex the adrenaline is part of the trade. A well thought out plan, makes it easier to make the right decision. Keep this in mind. And last, but not least, never trade with money can't afford to loose.

If you follow these fairly easy guidelines you will have a good chance of becoming a successful trader.